College Emblem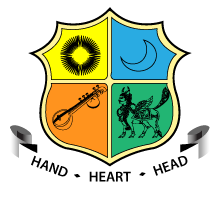 The Educational ideals of this institution are symbolized in the college emblem.
The 'veena' stands for the development of the hand for the enrichment of life.
The 'waxing' moon suggests the steady expansion of the heart ,in love of god and his creation.
The 'blazing sun' is expressive of knowledge that reveals things in their true light.
The harmonious development of the hand, the heart and the Head is what is wanted for a fully educated young generation of women, each of whom will be a 'Kamadhenu', the milch cow of plenty and plentitude.
VISION
The girls who enter the portals of this Temple of Learning should leave it as, "Nirai Nangaiyar" – ("the perfect women") enlightened with excellence in education and research.
MISSION
The vision of the college will be accomplished
by contributing to the society an appropriately educated, perfect young generation of women
by infusing spiritual, ethical and moral values in the minds of the students of all disciplines.
by achieving the all round development of the willpower, emotion and cognition of the students through curricular, co-curricular and extra-curricular activities of the college.
by encouraging and enlightening the students for excellence in higher education, research, extension and development.
by reaching the unreached in social, intellectual, moral and cultural facets.
by imbibing love on the motherland and an eager intent to invigorate her through active service with the sense of espirit de corps.
by inculcating Unity in diversity, a sense of unity and respect for all religions coupled with firm adherence to one's own religion.
OBJECTIVES:
To provide a platform for realizing inherent talent
To infuse integrated and academic core values
To make the institution a centre of excellence
To empower young women with leadership
To promote research culture in students to achieve global importance